Billboards on a property can add a level of complexity to a traditional real estate appraisal assignment.  The Uniform Standards of Professional Appraisal Practice (USPAP) require appraisers to obtain competency in a property type before producing an appraisal report.  Our Certified Appraisers and Consultants will assist other appraisers to develop the competency they require. We offer two options for real estate appraisers including a phone consultation and a book:
Phone Consultation ($150.00):
With a 30-minute, pre-paid phone consultation, you will speak directly with a Certified Appraiser who has experience dealing exclusively with billboard appraisals. You will gain a general idea of the methods used by appraisers to estimate billboard leasehold (sign owner) and leased fee (landowner) interests. Simply click the link below to pay for your consultation. Once payment has been received, we will contact you to schedule your appointment.
---
Billboard Appraisal: The Valuation of Off-Premise Advertising Signs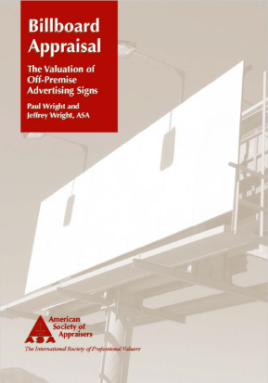 PDF Download Price:

$40.00,

Paperback Price:

$60.00

This book was written by Jeff Wright FASA, CFA and Paul Wright ASA to inform and educate people who are faced with the challenge of appraising a billboard. The book primarily focuses on billboard appraisals for eminent domain. However, it has applications for estimating the value of a billboard for sales transactions, lending and site leases. The paperback book is 253 pages and includes industry data, charts, graphs, illustrations, black and white photographs and appraisal examples.

Please Note: General free shipping is limited to the continental U.S. For orders outside the U.S. please call for price.