The 21st Century LED Billboard
By Paul Wright
July 2005
Approximately ten years ago digital printing revolutionized traditional billboard displays by offering advertisers more graphic image options, unlimited color choices, and faster posting times. Today, however, LED lighting has the potential to completely transform the use of creative copy in billboard advertising campaigns. New LED billboards are popping up all over the country and it is only a matter of time before there will be one in your city. Today's high resolution color LED displays offer advertisers the same graphic image options and virtually unlimited color choices with posting times so versatile that advertisers can pick the time of day that they want to advertise. That's because today's LED displays are capable of changing the creative copy with the click of a button. These new displays are also extremely bright and colorful and capable of full motion video that can obviously attract considerably more attention than one static image.
In 1962, Nick Holonyak Jr. invented the first practical red Light-Emitting Diode (LED). Today the LED illuminates a variety of electronics, from alarm clocks to signs in Times Square. In early 2004, Merton Flemings, director of the Lemelson-MIT program said, "Within the next decade, LED's could potentially make the incandescent light bulb obsolete." In late 2004 the first LED-backlit computer monitors and TV's will be introduced by electronics manufacturers.
So what is an LED? An LED is a solid-state component that uses electricity to make light. LED's come in a variety of sizes, shapes, colors and light intensity ranges. LED's are not all created equal, and in fact, there can be quite a difference between LED's in terms of their performance, longevity, brightness and cost. Experienced LED sign vendors have told us that you definitely get what you pay for when buying LED components. Diode manufacturers claim that their diodes will last for up to 100,000 hours, but usually don't. The following drawing illustrates the anatomy of a common LED used in outdoor signs.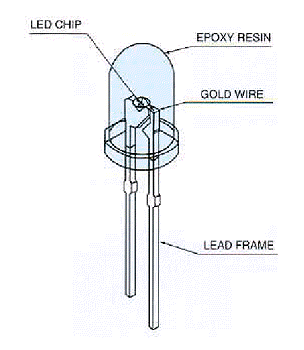 The part that actually makes the light is the LED "die" or "chip." The "lead frame" holds the chip and extends out of the package to provide electrical connection. The whole thing is encapsulated in an epoxy plastic package that may be colored or shaped. The diodes come from the manufacturer on a tape in rolls like artillery for a machine gun. The process of constructing LED signs is not complicated. Small sheet-metal or aluminum panels (approximately 1×1 foot) are punched with ball bearing sized holes in clusters of three or four so that red, blue and green (and most recently white) diodes can be grouped together. The holes are plugged with the diodes (just like the Lite-Brite toy you played with as a kid) so that the epoxy resin is exposed on the outside and the lead frame sticks out the back for connection to a power supply and circuit board. Keeping the lead frames cool is the biggest hurdle for most LED display manufacturers. Every company has a slightly different idea and proprietary method for cooling these components and they are all convinced that they have the best solution for the problem. After these panels are fully assembled to a power supply, circuit board and cooling system they are mounted side-by-side to form very large LED displays.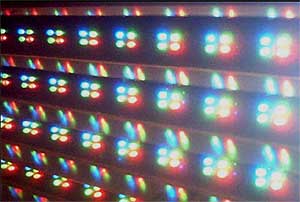 The distance between each group of diodes is usually measured in millimeters. This distance is referred to as the overall resolution of the display. Resolution can be very high or very low depending on the distance between each cluster, or the number of pixels in each horizontal row and each vertical column. Resolution is generally better when the diodes are closer together. For instance, a distance of 20mm produces better resolution than a distance of 89mm between diode clusters. The necessary resolution of an LED display depends in large part on the distance between the location of the display and the target audience.
Frank Barnes, a sales person for Multimedia, reported that his company's displays in Times Square are between 12mm and 25mm resolution. Multimedia generally recommends the following resolutions based on various distances, text heights and environments.
RECOMMENDED VIEWING DISTANCES

Distance
Resolution
Examples
Text Height

5 to 50 feet away

3mm to 8mm

Office, Hallway, Retail, Lobbies, Etc.

1 to 2 Inches

50 to 100 feet away

6mm to 12mm

Warehouse, Window, Drive Through, Etc

2 to 4 Inches

100 to 200 feet away

12mm to 25mm

Parking lots, Surface streets, Line Signs, Etc.

4 to 8 Inches

200 to 350 feet away

25mm to 34mm

Surface streets, Parking lots, Etc.

8 to 10 Inches

250 to 500 feet away

34mm to 66mm

Parking Lots, Hiways, Spectaculars, Etc.

10 to 20 Inches

500 to 600 feet away

66mm to 76mm

Hiway, Skyscrapers, Spectaculars

20 to 24 Inches

600 to 1000 feet away

76mm to 89mm

Skyscrapers, JumboTrons, Stadiums

24 to 40 Inches

Source: Multimedia 2004 Product Catalogue
LED billboard manufacturers and owners have encouraged our clients to buy higher resolution displays to accommodate legal disclaimers and other fine print items that many national advertisers often have to include in all of their advertising. For example, one auto maker that was advertising special financing had to publish some of the specific terms of their offer. This "fine print" was not legible on some lower resolution displays, so they were limited to higher resolution displays. In another case a cooperative
advertising agreement required the inclusion of one of the company's mottos under their logo. However, the text was too small to be legible. Sometimes these issues can be worked out in the graphic design department, but other times these requirements have been deal killers.
The outdoor advertising industry has only recently started to use LED displays. In an article for Sign of the Times Magazine, entitled "LED Billboards: Outdoor Advertising in the Video Age," Louis M. Brill wrote,
In outdoor advertising, LED video billboards are a new ballgame, a pioneering effort of setting up electronic billboard installations as a multiple location advertising system. While print billboard agencies may see electronic as an upstart within their domain, LED video billboards sallies forth with the same pioneering spirit as other earlier entrepreneurs who started experimenting with the horseless carriage and the all new, all 'talking' movie pictures.
In their first quarter conference call with securities analysts, Lamar Advertising reported that they are currently buying LED displays from two "reliable" vendors and both YESCO and Daktronics have reported selling displays to Lamar. Lamar has installed YESCO and Daktronics signs in Las Vegas NV, Baton Rouge LA, Pittsburg PA, Cincinnati OH, Fort Walton FL, and Birmingham AL. They also have deployed LED displays in Kansas City MO, along Interstate 435. In an article in The Kansas City Star on May 17, 2004, Lamar's general manager Bob Fessler said that "The feedback we're getting from customers is they like the flexibility" adding that "rates are comparable to those of regular billboards" and the board is "completely sold out."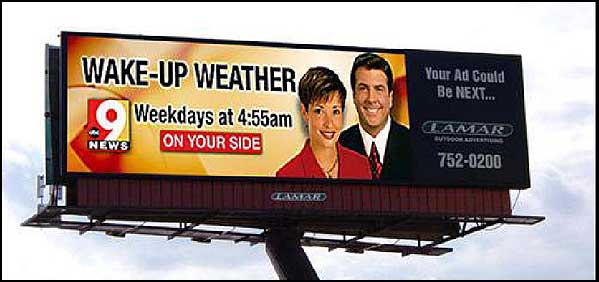 In another interesting industry move that may forecast a future trend, Millennium Sign in Salt Lake City, Utah, rented traditional vinyl billboard space from a local billboard company, then leased a YESCO LED display. Millennium Sign now sells advertising spots to third party advertisers through a marketing agreement with the local NBC affiliate KSL TV. The 14×48 display is positioned in a high traffic location along Interstate 15 in downtown Salt Lake City. The display has 33mm resolution and 68.7 billion color
capabilities.
Rick Craig, the CEO of Millennium Sign, reported that their technicians connected a Sony PlayStation unit to their new sign to test the display's graphic animation capability and it passed with flying colors (no pun intended). Although LED signs can produce stellar video quality imagery, the vast majority of city, county and state regulations that control billboards do not allow full motion video. One way that billboard owners might persuade government agencies to permit this new technology would be to offer officials the use of the new LED displays for emergency messages, such as Amber Alerts.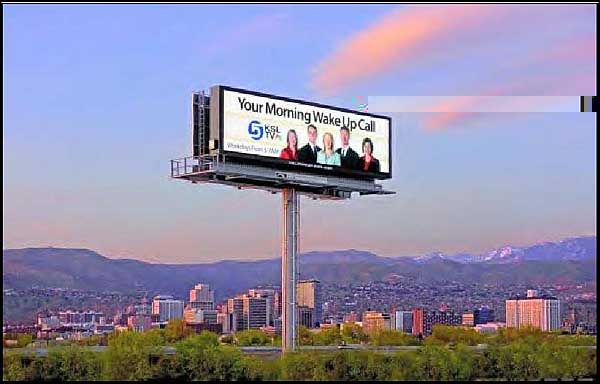 Border Billboard is another small company who has invested in this technology and is selling display space to third party advertisers. Their two Daktronics LED billboards are 18×25 feet and are positioned along Interstate 1 in Mexico (and Interstate 5 in the US) facing travelers crossing from Tijuana, Mexico into San Diego, California. The Daktronics Pro-Star LED displays are 23mm resolution and capable of one billion colors. The company reported that, "The technology changes so quickly that we must always
upgrade our billboards to stay ahead of the competition, as we have in Mexico."

On April 12, 2004, Clear Channel Outdoor indicated that they may have plans to start installing LED displays in place of some of their traditional vinyl billboards over the next two to three years. Their Chief Executive Paul Meyers told Reuters,
"We have decided to actively seek out developing technologies that enable us to remotely and instantaneously change static signage. Within two to three years, there is a good chance that this kind of maximally flexible outdoor display is going to be available on our traditional structures.Instead of selling space on traditional displays, we'll be selling time slots but with incredible flexibility. It's a whole different pricing scheme and it should dramatically increase the aggregate revenue from any given location. We're going to make significant capital expenditures to provide that service."
We estimate that there are about a dozen companies currently operating between 50 and 75 LED billboard displays nationwide. These companies are selling display time in spots between 6 and 60 seconds much like radio and TV advertisements are sold. The owners we spoke with said that they required advertisers to buy a minimum number of spots per week or month. High resolution LED billboards at prime locations are generating three to six times more revenue than traditional static vinyl displays. LED billboard operators have reported ad revenue between $3,000 and $60,000 per month, per display depending on the location and resolution of their displays. Obviously, these relatively expensive signs are only warranted at high traffic locations in major media markets.
One might expect operating expenses to be lower on LED displays because there is no need for traditional vinyl copy production and installation. However, we have found that expenses are as high as or higher than traditional vinyl displays. The higher expenses are due in part to the additional time salespeople must spend educating potential advertisers. LED displays also have higher electricity costs and higher logistical management costs due to the numerous advertisements that can be placed on such a versatile medium. Since advertising spot management can be time consuming it is important for sign owners to investigate the operating systems that come with the LED displays and how those systems will manage the creative image that is displayed.
The cost of high resolution LED bulletin displays (14×48 feet) is still in the $400,000 to $500,000 price range, but we expect those prices to drop significantly in the next three years as more and more companies invest in the technology and the price of diodes continues to fall. Diode prices have reportedly dropped between 75% and 85% in the last few years and we expect prices to continue falling for the next decade. Ultimately, those companies that make the investment in this technology will have to be able to support it with salespeople and technicians to manage the signs as efficiently as possible.
Ten years from now there will undoubtedly be a few LED billboard displays in every top 50 media market. We are clearly at the beginning of a revolution in outdoor advertising created by the 21st Century LED Billboard.

Paul Wright is the President of SignValue, Inc. an outdoor advertising appraisal and consulting firm
based in Scottsdale Arizona. He can be reached at (480) 657-8400 or paul@signvalue.com.