Screen Media Daily - By Staff Writer
Larger-Than-Life Digital Screen Network Reaches 100 Million Visitors Annually at Westfield World Trade Center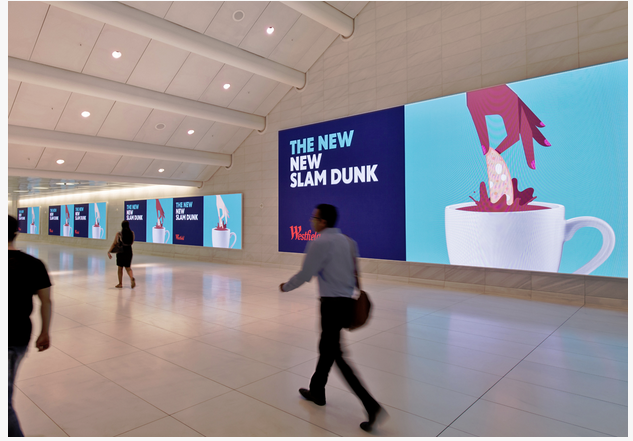 NEW YORK, NY – Westfield Brand Ventures has launched a 19 screen digital out-of-home network at New York's World Trade Center. The screens, one of which is four-stories high and another that's more than 280 feet long, allow for a wide range of messaging including live video streaming, and can be run concurrently or individually.
Westfield Corporation partnered with ANC, a provider of integrated signage, design, and FiveChannels marketing solutions to sports, entertainment, retail and transportation facilities, to deploy 5,000 square feet of LED throughout the 16 acre Westfield World Trade Center Complex, which officially opened on August 16th, 2016. ANC will provide Westfield with content management, content creation, ongoing service and schedule all content for both display networks.
The World Trade Center could see as many as 100 million visitors passing through the location each year. More than 60,000 residents live in the surrounding neighborhood, and 300,000 commuters access the 13 subway and PATH trains as well as multiple ferry lines each day. An additional 15 million travelers converge through the space each year. Each day the screen networks will reach more than twice the audience of the three largest New York metro area stadiums combined, and generate nearly 285 million impressions annually, according to Westfield.
Westfield's World Trade Center includes more than 365,000 square feet of retail space and features more than 100 fashion, beauty, lifestyle, and technology brands such as Apple, H&M, Hugo Boss, Kate Spade and Sephora. Westfield is providing brand advertisers with cross-platform brand marketing opportunities along with category exclusive corporate sponsorships.
Current sponsorships include some of the world's most influential consumer, financial services, and automotive brands, including Pepsi Co., JPMorgan Chase & Co., and Ford Motor Company. Under the direction of Westfield's Brand Ventures division, the company's "Premier Partnerships" at World Trade Center include multi-year product and vending rights, high-profile event hosting, brand showrooms, as well as digital out-of-home advertising exclusivity throughout the site's state-of-the-art DOOH media network.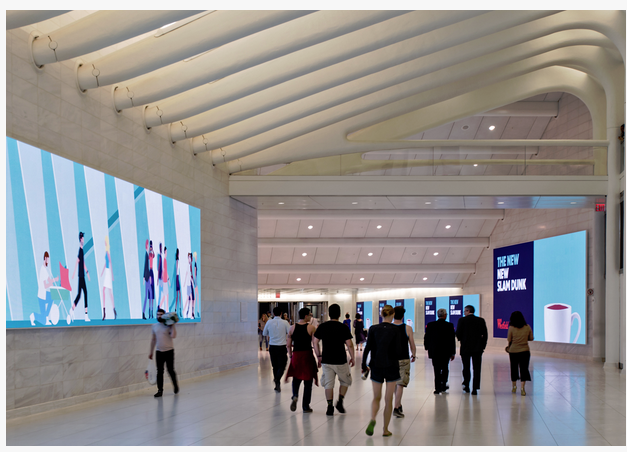 "Our Brand Ventures marketing opportunities at Westfield World Trade Center will enhance the visitor environment by delivering powerful consumer experiences in a breathtaking setting," said Charley Delana, Westfield's Executive Vice President of Brand Ventures. "Whether through customized creative campaigns displayed on larger-than-life digital screens or exciting activation events, these brands will further Westfield's ability to serve as a cultural epicenter of Lower Manhattan and create transformative experiences for the vast audience of professionals, tourists, and residents who will visit the retail district each day."
Westfield Brand Ventures also manages The Fulton Center's digital out-of-home ad network in partnership with the MTA. The Fulton Center DOOH network includes more than 50 state-of-the-art digital signage screens including 16 interactive On the Go! Kiosks.