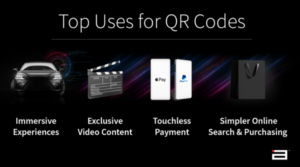 DOOH is a big topic of discussion for this year, as technology continues to grow exponentially. 
Alfi
 has conducted new research that shows that the use of QR codes will facilitate huge growth in DOOH for the advertising and marketing sector. Using QR Codes allows brand to measure exactly how impactful their campaigns are. QR codes are the bridge that connects interaction and impressions for an ad. The top uses for QR codes are immersive experiences, exclusive video content, touchless payment, and simpler online search & purchasing.
In case you missed it, check out how Coinbase utilized a QR Code in their 
Super Bowl commercial
 this year. Another way we have recently seen a brand implementing QR codes for advertising is with Paramount and their 
drone QR code
 to promote "Halo" series.
The popularity of QR codes is rapidly increasing and it will be interesting to see the shift in DOOH creative with the continued development of these technologies.